Jodbren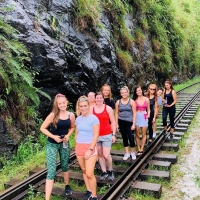 We are a group of ten teachers traveling from the UAE, so had little time to plan our trip to Sri Lanka, but we had the best trip thanks to indigo oceans and our tour guide Pasi. We were able to pick and choose what we wanted to do along the way and both Pasi and our bus driver were more than happy to accommodate us. It was easily the best holiday I have been on because we had nothing to worry about we travelled around Sri Lanka in two weeks and got to see and do everything we wanted. Pasi was extremely knowledgeable, and timed everything to perfection allowing us to get the pictures we wanted and of course he was an excellent photographer taking group pictures for us everywhere we went. If you are traveling to Sri Lanka I would highly recommend going with indigo oceans.
Jochen aus Magdeburg – Germany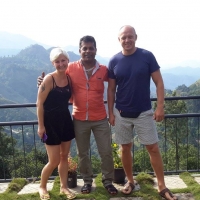 " Habe mich hier gerade erst angemeldet, um eine Empfehlung auszusprechen.
Wir waren im April/Mai 2006 fast 4 Wochen in SL unterwegs und fast die ganze Zeit mit Raja unterwegs. Wir stießen im Vorfeld ebenfalls in diesem (oder einem anderen) Forum auf seine Kontaktdaten und nahmen per Mail mit ihm Kontakt auf. Alles hat prima geklappt. Er holte uns wie versprochen in dem Hotel, welches wir für die ersten 3 Nächte "sicherheitshalber" schon von D aus gebucht hatten ab und fuhr dann mit uns drei Wochen durch das halbe Land. Im Gegensatz zu einigen anderen Fahrern, die wir dort erlebten, war Raja sehr diskret und zurückhaltend. Er war nur da, wenn wir ihn brauchten. Raja spricht natürlich perfekt englisch und er lernt schon seit einiger Zeit deutsch. Sein Van ist in einem ordentlichen Zustand und von den Hotels, die er aussuchte, waren wir ausnahmslos begeistert. Offensichtlich haben österreichische Reisende für ihn eine Internetseite eingerichtet, über die man mit ihm in Kontakt kommen kann: www.members.aon.at/raja ; und das hier ist seine Mailadresse: rajatour10@hotmail.com. Für weitere Rückfragen stehe ich gern zur Verfügung...."
Tanti e tanti saluti da Alberto e Roberta – Italy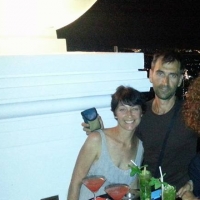 "Ciao Raja, tutto bene?
Ti ringrazio degli e-mail che mi hai mandato e anche dalla telefonata che mi hai fatto!
Ho sentito che avete avuto molti problemi con il tempo e con la guerra al nord, speriamo che adesso ci sia un periodo di tranquillità nel vostro paese. il lavoro va bene? hai tanti turisti? Speriamo di si, anche perchè il srylanka è veramente bello, continuiamo a consigliare hai nostri amici di venire lì da tè per fare un bel giro, vedrai che prima o poi qualcuno ci chiederà di metterci in contatto con te.
Speriamo che tu riesca a tradurre questa e-mail, nel frattempo ti auguro un anno tranquillo e sereno, e scrivi pure quando vuoi io e la Roberta siamo felici di sentirti...."
Claudia and Harald Schiller – England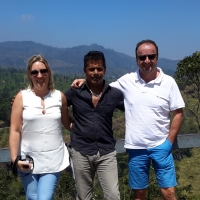 "Sri Lankan Tour Guide and Driver at special rate My wife Claudia and I decided to explore Sri Lanka. We got a recommendation from friends for the Indigo Lanka and we booked our vacation there. At our arrival at the Colombo Airport the Travel Agent introduced us Raja. From the first moment we had a very good and save feeling to drive with him. We appreciated the way he managed driving which seemed to be a great challenge because of Tuktuks and suicide bus drivers. We saw all the important cultural highlights, he showed us original restaurants of Sri Lanka and he took us to the best places where you can buy silk, wood carvings etc. . . It was nice to now that Raja is waiting in front of the reception desk when a new travel-day begins. We were more than satisfied by the reliable way Raja did his Job. We wish him and his family all the best for the future and maybe we will see him again. Contact me Phone - +94777065438 Email -rajatour10@hotmail.com." - schiller-h@gmx.at
Leann W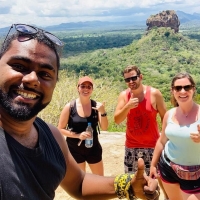 Some friends and I are just back from an incredible 15 day tour of Sri Lanka - thanks to Indigo Ocean Travels and our wonderful guide Pasi !

Pasi is the friendliest, most easy going and knowledgeable person ever and made us all feel so safe and welcomed from the moment we met him.

We had the flexibility to change what we wanted to do along the way and with a warm smile Pasi was more than happy to accommodate us.

I have already started planning my next trip to Sri Lanka with my mum and sister and will be using Indigo Ocean Travels and of course requesting Pasi again... 5 ⭐️ guide 😁
rebecca mcalinden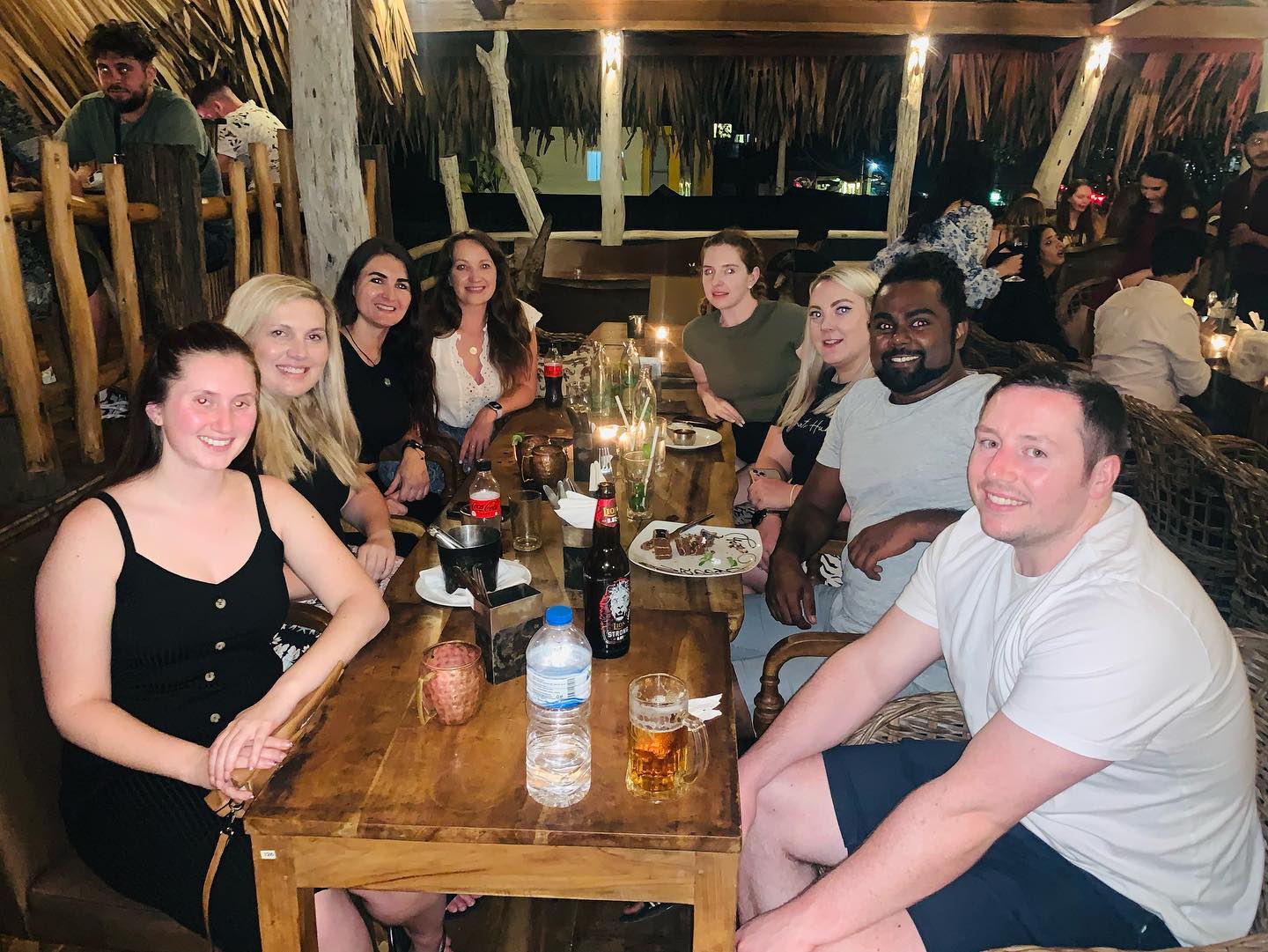 In October, 7 of my friends and I spent a week in Sri Lanka touring around with Indigo travel. Our tour guide Pasi was fantastic, bringing us to lots of amazing places and giving us lots of opportunities to partake in a range of fun and exciting activities. The trip was stress free for us and we never had to worry about where we were going or what we were going to do next as it was evident we were in good hands! Pasi's itinerary was very well organized and the bus we travelled around in was very comfortable and easy to relax in! I would recommend anyone going to Sri Lanka to book through this company.
Ghazi Gashut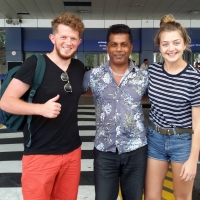 "From the very first email I sent Raja his help and organization of our trip was phenomenal! We spent 8 amazing days in sri lanka with every bringing a wonderful new adventure. Raja is a fantastic guide. Every place we stayed was better than the next. Everytime I think this is the best place we've stayed the next day brings an even better place!
One of the best things about the trip was that it was flexible and customized to our needs. Raja made sure that everything was taken care of from the moment we met at the airport till the time he dropped us off at the airport.
We were actually really sad to be leaving as we had trully enjoyed our trip and will definitely be coming back in the future.
Thank you Raja! And we wish you all the best.
Sincerest regards,"
Jason Smith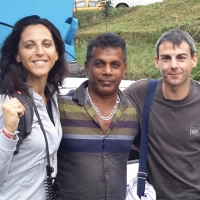 "We (my girlfriend and I) spent one week with Raja as our driver mid September 2014 in Sri Lanka. Accomodation was organized on our own. I contacted him only a few days before our arrival and he was luckily still available.
After the first email he replied within one day. Our plan was a tour through south west of Sri Lanka without a fixed route, only some places we wanted to see and the drop off fixed. Raja was supporting us with recommendations in advance as well as during the trip.
Pick up at the airport was working great, he was already waiting at arrivals. Raja assisted us with the communication as well as for purchasing souvenirs etc. However, he was never pushing us to visit any particular place and left us in general a lot space. Raja was only supporting on request. We felt all the time comfortable and safe with him. His language skills are very good & we had no trouble communicating throughout the trip. We spoke English with him but he is also speaking four other languages.
As a driver he was very reliable and picked us up always on time. Also traffic in Sri Lanka can be quite chaotic Raja was having overview and was driving defensive, he went slow and didn't take any risks..
Also for accommodation he was having many recommendations. However, we preferred to organize this on our own since our preferances were more on Guesthouses than Hotels.
About the car, it is a Nissan Sunny with AC which is very clean, comfortable and reliable. It was working fine also on the steep and curvy way to Horton Plains.
Long story short, I can recommend Raja without any hesitation."
zsoldoszs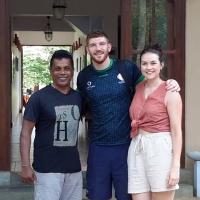 "We ( my wife and me ) had a perfect tour in Sri Lanka with Raja in October 2016. During the marvellous 8 days we have no problem at all . Everything works properly as we agreed with Raja via email befor the travelling .He offered us more option for the route, for the accommodations, for the places to see .,e tc .- with more budget. Our task was only to choose one and modifie a little bit. He was waiting for us at the airport Colombo when we arrived He was our driver (with Toyota minibus), our guide , our " travel manager " and - at the end of our tour- he became our friend.
He always was polite and gave us useful advices . During the trip we have traveled by local train for 3-4 hours and at he railway terminus (Ella) he was waiting for us with our luggages !!
Dear Raja !
Yuo have a nice country with friendly people, wonderful nature and good quality roads (!) ( with many tuk-tuk: and big traffic: ))
We would like to thanks again for your perfect organization, guiding , and driving. Also thanks your flexibility and and taking care of us.
We have learnt a lot from your country , religions, etc.
Dear Readers !
Don't hesitate to make a nice tuor with RAJA !
Bea és Zsolt (Hungary)"
Brady #srilanka tour#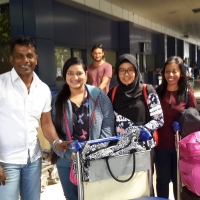 "Our family have just spent 2 weeks in Sri Lanka with Indigo Lanka with Raja as our tour guide. From the moment we contacted him we felt at ease, he replied quickly to our enquires and soon had our holiday planned.
Raja picked us up from the airport in his transport which had ample space and always spotlessly clean. Every day Raja was waiting for us his English was great and he was organised full of knowledge and very experienced and helpful guide.
We were very relaxed around Raja and he was great with the children even though he was with us for the 2 weeks he was never intrusive but there for any help we needed. Our accommodation was wonderful ideally located with great views get a perfect sample of Sri Lanka.
We had a truly memorable holiday and would not hesitate to recommend"