Minneriya Safari
Our Teams at Indigo Ocean operate all Sri Lanka 's major National Parks to offer the maximum wildlife safari opportunities for viewing the country's diverse wildlife. With such a variety of environments ranging from wet to dry zone, forest to jungle, and hill country to low lands, there's no end to the fascinating locations in which to spot many of these beautiful birds.s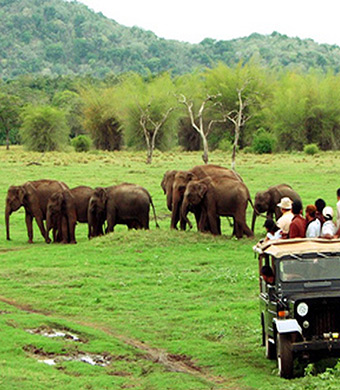 This Located 182 kilometers from the Sri Lankan capital, Colombo, Minneriya National Park is an ideal eco tourism spot in the country. Spread over 8890 hectares, it was designated a biosphere reserve in the late 1970's. But in 1997 the Sri Lankan government declared it as a National Park and in the following year the Minniriya Wild life Reserve was opened for public viewing and since then it has managed to attract tourists from all over the country and globe. The wetland habitat of Minneriya National Park in Sri Lanka is inhabited by a large number of mammals such as elephants and sambars, leopards, sloth bears and the purple faced leaf monkey. The best season to view the animals is during the dry season from June to September when they gather in huge herds at the banks of the Minneriya reservoir. Visitors are also spot the endangered red lipped lizard and the Sri Lankan swamp crocodile in the reservoir.
In addition to the various species of mammals, the Minneriya National Park is also home to rare aquatic bird species such as the little cormorant. In addition to them, the painted strokes, Great white pelicans, Ruddy turnstones and Grey herons can also been spotted at the reserve. Early morning and late evening are perfect timings to spot these migratory birds.

Beside the flora and the fauna, one of the main features of the park is the ancient Minneriya Tank. Built in 3rd century AD by King Mahasena, the tank helps in the irrigation of over 8500 hectares of paddy lands.
TOURS BOOKING REQUEST FORM
Please complete the booking form below. To submit your booking select "Request a Booking" at the end of the form.
Note: All fields marked with a * are mandatory