Udawalawa Safari
Our Teams at Indigo Ocean operate all Sri Lanka 's major National Parks to offer the maximum wildlife safari opportunities for viewing the country's diverse wildlife. With such a variety of environments ranging from wet to dry zone, forest to jungle, and hill country to low lands, there's no end to the fascinating locations in which to spot many of these beautiful birds.s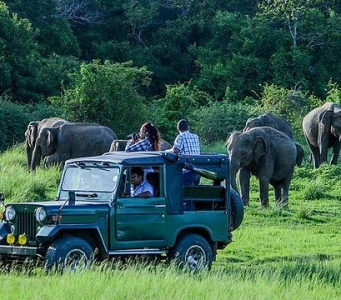 This 30800 hectares dry zone game park was declared as a protected national park in 1972 and has an annual rainfall of 1524 mm and an average temperature of 29.4 0 C. This park is world famous for it's Elephants, seen in all their playfulness, whole herds of them, adults and babies bathing and playing in the water or feeding.

This safari would be an unforgettable bird watching experience as "Udawalawe" is one of the best parks for bird watching too.

The endemic species of bird called Red Faced Malkoha has its favorite habitat in the 192 square km parkland. Serpent Eagles, Hawk Eagles, White Bellied Sea Eagles, Black Eagles, Black Capped Bulbuls, Racket Tailed Drongos, Malabar Pied Horn Bills, White Necked Storks, Open Bills, Ibis, Shama - The forest Nightingale, Strol Billed Kin Fishers and peacocks are found in fair numbers. Among the migrant birds are the forest wagtails, Indian Pitta, Whiskered Terns, Osprey Sand Pipers and Terns.
TOURS BOOKING REQUEST FORM
Please complete the booking form below. To submit your booking select "Request a Booking" at the end of the form.
Note: All fields marked with a * are mandatory